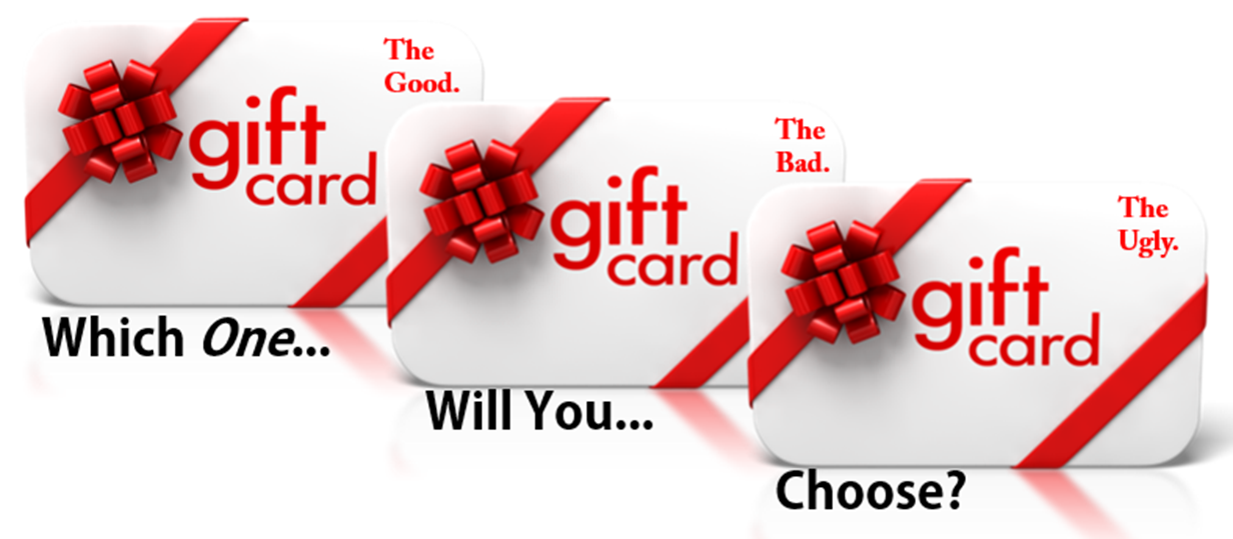 If you're like an estimated 76% of US consumers, you might be planning to add a few gift cards to your holiday shopping list.
Before you pick up some plastic to round out your gift giving, you should be aware of a few pros and cons to this form of a gift.
The Good
Gift cards are a great way to share the holiday cheer. They can typically be bought in any dollar amount, they're somewhat more secure than mailing a card with some cash in it, and best of all, they let the recipient pick out something they really wanted. If you opt for a store-specific card, you're still saying, "I know where you like to shop but I don't know what you need. I care that your gift is just right."
There are a few less personal ways that gift cards can be a benefit. First, it's quite common at this time of year for retailers to sweeten the deal with a gift card, meaning you can save a lot of money on your holiday shopping while still checking off all the people you care about. And to be honest, the recipient's budget can get a boost too; the card might help them save on their own needs during their holiday spending, can purchase a gift they give to someone else, or can even be regifted if need be. Remember, the real present is that you boosted someone's spirits and made their holiday better, so if this is how they choose to spend it, that's okay.
The Bad
Unfortunately, gift cards can come with problems. They can have transaction fees or expiration schedules, meaning they can lose value over time. In fact, an estimated $1 billion a year in unspent gift cards goes back to the retailers. And if the cards are physically lost, their replacement value depends on the retailer where they were purchased.
The Ugly
The worst of it, though, are the scams. Gift cards and prepaid debit cards are the currency du jour for scams and fraud. Victims have literally bought gift cards for everything from paying their overdue taxes to posting a loved one's bail, all because a scammer instructed them to do so. Moreover, the cards themselves can be tampered with; a thief steals all of the information off the back of the card, replaces the grey scratch off seal over the PIN number with a fresh one (readily available online), then waits for you to activate the card at the register. Once you add money to the card, the thief drains it immediately and your gift is useless.
Remember, there are benefits and risks of buying and giving gift cards, but you have to understand how they work and know your recipient well enough to decide if it's a good purchase. The security of the card is also important, so know the ins and outs before you buy and pass along the plastic.
Source: ID Theft Center