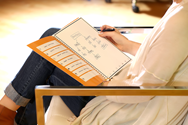 If you're like me, you still like taking notes with a pen and paper. Problem is, note pages can pile up, get lost and be a pain to organize. But thanks to a special notebook called Rocketbook, you can still take notes the "old-fashioned" way of pen and paper, but then file, organize and store your notes digitally for quick access and retrieval!

Rocketbook looks like an ordinary pad of paper. To use it, simply take notes as you would on any pad of paper, using the Pilot FriXion pen. When you're done, the built-in app creates a high-quality JPG image of your notes and files it to the folder of your choice inside Evernote, Dropbox, Google Docs or OneNote. You indicate which folder each note goes to by marking clever little icons at the bottom of each page.

When the pages are full, simply microwave the notebook for 30 seconds to completely erase and reuse. Rocketbook currently comes in two sizes and is available at indiegogo. Just search on, "Rocketbook."