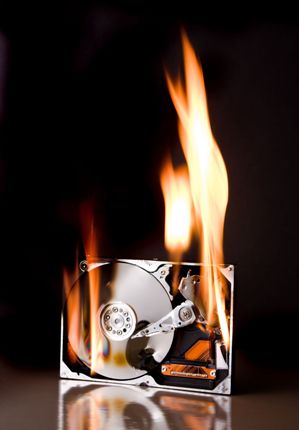 I'm sure you've heard the statistics about how likely you are to lose data, how much it will cost to recover it, how long it will take, how much is likely to never be recovered at all, and how many businesses fail after major data loss. But since 96% of all statistics are made up on the spot (including this one), I won't bore you with the numbers. But I can say one thing for certain: it will happen. To everyone. I don't care if your data is on a hard drive, a flash drive, the server, a tape drive (yes, they still exist), or in the cloud. I guarantee at some point you will lose data. You simply cannot prevent it. All you can do is prepare for it.
When we interview a prospective client to see if they are a good fit for us, and vice versa, one of the first questions we ask is about their data backup. Do they have one? Is it running? Has it been tested? To these questions, in order, these are the typical responses: yes, I think so, and no. I won't get into the details of what some people consider to be a "data backup" system. But let me just say that in almost all cases, their backup is inadequate. And I have not yet heard anyone tell us that they are actually testing their backup. Holy $%@#!
Here's a fun little experiment to try at the office. Turn off all the computers, tablets, smart phones, and servers. Start counting. 1-mississippi, 2-mississippi, 3-mississippi… How far do you think you'll get before heads start exploding? Now let me ask: how important is that data backup? Yes, I know, it's a dumb question.
There are three critical elements you must have in place to guarantee a fast, pain-free recovery of your critical IT systems in the event of a data-erasing disaster. But sadly, most businesses we talk to don't have any of it in place.
When it comes to backing up and protecting your company's critical data, you need to know for certain – without any lingering doubts – that you could recover your files and be back up and running again fast after a natural disaster, server crash, hacker attack or other data-erasing event.
Yet most business owners and administrators don't know for sure if all of their data is being backed up. Even fewer conduct regular test restores to ensure that their backups are actually working, and many don't have a clue what they would do if they suddenly lost their data or ability to access it due to a fire, flood or other disaster. To make matters worse, almost no one keeps records of software licenses and discs that are necessary to restore a corrupt or critically damaged server – so even if they are lucky enough to have all their data, they soon realize that data backup is only one component and doesn't necessarily guarantee a speedy recovery.
OK, enough small talk. Here are the 3 key elements of a solid data backup plan:
1 – Secure, Encrypted Offsite Backup
While we recommend that you have onsite backup, it's absolutely critical to keep an encrypted copy of your data offsite as well. If a fire burns your office to the ground – or a thief breaks in and steals your server and equipment – or a natural disaster floods your office or makes it impossible to access your PCs and server, the onsite backup will be useless to you. And copying your data to a tape drive or other device and carrying it home every night isn't the safest or smartest system either. Data needs to be encrypted to prevent it from falling into the wrong hands – and if you are storing "sensitive" data (like credit card numbers, financial documents, medical records and information or even client e-mail addresses and information) on an unencrypted portable device you may find yourself having a VERY uncomfortable conversation with your clients (and possibly a 5:00 news reporter) about how you exposed their data to an identity thief or hacker.
2 – Data Recovery and Disaster Recovery Plan
A huge mistake many administrators and business owners make is thinking that data backup is the same as disaster recovery – it's not. Many business owners are shocked to find out just how long and painful the process is to get all their data back after a disaster – and that's if they have a good, clean copy of their data in the first place (most are surprised to find out they don't). Just having a copy of your data isn't enough; you need to have a plan in place to get everything restored quickly, which is something that tape drives and other physical backup devices don't offer.
3 – Test Restores
After you have a good backup system in place, you need to test it regularly to make sure it works. There's something very wrong if you aren't doing this simple check at least once a month (possibly more for more critical data). If your current IT person or firm is not doing this, you need to fire them immediately. There is simply no excuse.
So there you have it. Everything you ever needed to know about data backup and disaster recovery. Well, not really. If you want to know more just Schedule a 10-Minute Discovery Call with me, Justin Shelley!